We've been producing classic aquarium products for aquarium enthusiasts and professionals from around the globe.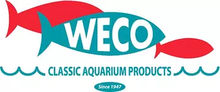 Coral Sea Aquariums is proud to carry Weco in West Palm Beach, Florida. Every aquarium and pond owner has been faced with green water or algae, which means there has always been a need for an algicide to make the job of keeping a fish tank easier. Weco's very own Algicide is the only brand able to carry this name because Weco was the first to file and receive protection for this product way back when.aWhen a need arose to neutralize chlorine and chloramine from municipal water, Weco was at the forefront over 65 years ago.
Products
Accessories
Conditioners & Medication
Nets
Ornaments - South Pacific Coral
Ornaments - Wecorama
Water Clarifiers
Wonder Plants
Come visit our aquarium supply store in West Palm Beach, FL for a wide selection of fish, corals, plants, and more!